Toute Bags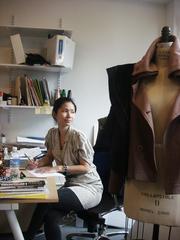 "The idea behind Toute by Maisonette 1977 started when we needed a gift bag for Maisonette 1977's debut at New York Fashion Week in 2011. We wanted to provide our own signature version of what's become a staple for the women of New York City – the tote. We launched the tote line in 2012.
Designer Jane Ibrahim's inspiration was the busy lifestyle of a woman in a walking city. Jane wanted to give a touch of fashion to these everyday, second bags; just enough so they don't outshine your purse, but enough so they can go out alone as well.
The U-shaped armhole provides a comfortable way to carry the tote over the shoulder. The cotton rope handle provides sturdiness as well as comfort. The cinching allows extra carrying space for your day's needs. Cotton, for us, has a great feel that wears well with time, and becomes familiar and individual.
Jane designs and sews the prototypes herself here in New York City, then they are produced overseas."
Jane Ibrahim's Products
---