Chemical Wedding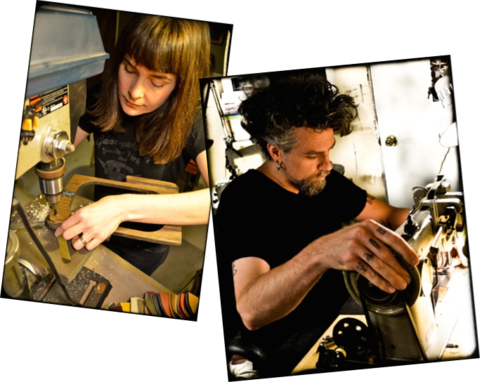 Seattle-area artists Jon and Tracy Haaland of Chemical Wedding handcraft utilitarian handbags in their home studio, working side by side to create rustic but beautiful pieces of wearable art.
The couple have diverse yet similar artistic backgrounds: Jon attended Cornish College of the Arts in Seattle, focusing mainly on printmaking and sculpture. Tracy got her BFA in painting and printmaking at the University of North Carolina at Greensboro. Jon became well-known for his high-end custom wall coverings, while Tracy painted and illustrated children's books.
But in 2003, they joined together to create a line of handcrafted handbags. To them, the term "Chemical Wedding" symbolizes "an alchemical transmutation of form, such as lead into gold." Together they transform fine art and design into utilitarian, elegant, wearable sculptures uniting form and function – a perfect Chemical Wedding.
Chemical Wedding's Products
---